World Class Quality Massage
in Lafayette, Colorado
Creating Pain Relief, Relaxation, & Body-Based Transformation
Jonathan's massage teacher joins Bodywork for Liberation!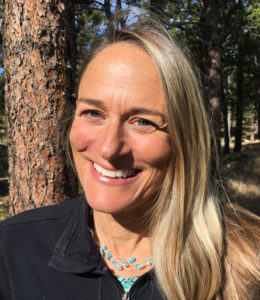 We're delighted to welcome Michelle Moore to Bodywork for Liberation. Michelle has been a massage therapist since 2001. She received her certification from Healing Spirits Massage School and was a founding Instructor at the Institute for Phenomenal Touch Massage.
Jonathan met Michelle when he attended his first Phenomenal Touch class—and she was his teacher! He credits Michelle with helping to shape his massage and bodywork skills. Michelle is available to see clients now.
Are you seeking a relaxing, restorative massage? Michelle is a Master Instructor in Phenomenal Touch Massage.
Does your body want a deep tissue or sports massage? Michelle has experience as a personal fitness trainer, and she's also a competitive athlete.
Schedule your session with Michelle here.
Michelle holds a Bachelor of Science degree in Exercise Science from Ithaca College, and she worked as a personal fitness trainer. Having run numerous marathons and completed an Ironman in recent years, she knows first-hand about the importance of proper training, bodywork, and taking care of one's entire being. Read more about Michelle here.
---
The World Massage Championship
With a commitment to deliver world class bodywork services to his clients, Bodywork for Liberation founder Jonathan Grassi competed in the World Massage Championship in Copenhagen in May 2018 and won the Bronze Medal in the Freestyle Category. More than 120 massage therapists from around the world entered the event. Everyone was outstanding and Jonathan was honored to be among them.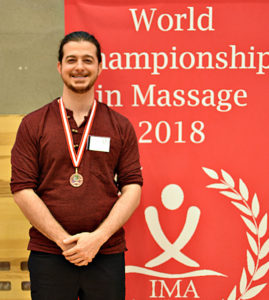 From Jonathan
I believe touch is the most powerful healing tool we have. Whether you have physical pain, the need for restoration, or the desire to transform your fundamental experience of life, massage has so much to offer. My Lafayette massage and bodywork practice works to elevate touch to its rightful place as a pillar of human medicine.
Deep Tissue Massage, Relaxing Massage & More
With over 7,000 hours of clinical experience in settings that include rehabilitative clinics, medical field tents, resorts, psychotherapy treatment centers, and more, I have seen so much and helped so many people. Everyone deserves a pain free body and I have dedicated my career to helping end human suffering. Let my experience work for you. Conditions I treat include:
Low Back Pain
Neck Pain
Shoulder Pain
Foot Pain
Hip Pain
Knee Pain
Whiplash
Headaches
Carpal Tunnel Syndrome
Sciatica
Plantar Fascitis
Frozen Shoulder
Irritable Bowel Syndrome
Chest Tightness
I also have extensive experience in supporting emotional and spiritual transformation through the body. This includes supporting clients who are in psychotherapy or who may be seeking somatic awakening.
Four Times the Training
My clients have powerful results because of the time and energy I put into my education. The comprehensive 2,500 hours of training I literally bring to the table is four times the national average. My skills enable my amazing Lafayette massage clients to transform pain into healing time and again as a result of our work together.
Mission-Driven Bodywork
My belief in the medicine of touch runs deep; so much so, I traveled to Nepal in 2016 to provide free treatments to those affected by the devastating Gorkha earthquake. This 7.8 magnitude quake rocked the countryside and left hundreds of thousands homeless and without healthcare. Our 3 person medical team provided 1,000 treatments throughout Kathmandu and Sindupalchok.
Unmatched Service and Results
Let our Lafayette massage practice help you experience the ease, fluidity, and joy that comes from having expert massage care. Come experience the best massage and bodywork near.

We look forward to the chance to increase your health, well-being, and total quality of life.
All the best,
Jonathan